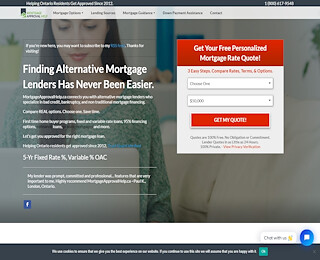 Contact private mortgage lenders in Ontario from Mortgage Approval Help when you need funding for a new home. If you've been turned down by your bank for a home loan or have less-than-perfect credit, you should know that there are options available to you that will help you purchase your dream home. Continue to explore our website for more information on how you can get the money you need to buy real estate; start by clicking the 'Mortgage Options' link and selecting Private Mortgages from the menu.
5 Reasons to Choose Us When Looking For Private Mortgage Lenders in Ontario:
1. Private lenders are far more likely to respond favorably to your request for a loan when approached by one of our mortgage brokers. We'll work hard on your behalf, presenting your story to our lenders and shining a light on the positive aspects of your mortgage application. Experience makes a big difference when applying for a private mortgage- just ask our long and growing list of satisfied clients.
2. We can connect you with many different lenders, so you can compare interest rates and terms to find the best mortgage for your unique financial situation. One of the perks to working with our agents from Mortgage Approval Help is that you can find highly competitive mortgage options with as little as 25% equity in your home. Feel free to reach out to us with your questions or get a quote over our website in 3 easy steps.
3. Our lenders consider their clients as individuals- not numbers. If you're tired of dealing with a lending institution that doesn't recognize the value in doing business with you or fails to see your personality behind the application, we invite you to call us today to speak with one of our agents about applying for funding from our private mortgage lenders in Ontario. Our investors may request bank statements, appraisals, employment letters, or other data to feel more confident about loaning money.
4. Our mortgage brokers have your best interest as our one-and-only focus, providing peace of mind for our clients when they need funding solutions for property. Come in and speak with us in-person or call to discuss your mortgage needs with an agent who can help you take the first step toward a mortgage loan approval.
5. Our agents are accessible; if you have questions or need to speak with us, you'll find we are always happy to help, whether you prefer to call or email your communication. We guarantee an exceptional experience when you choose us as your private mortgage brokers.
Let Mortgage Approval Help assist with the process of buying your next home; you have a dream- we want to make sure you have every opportunity to see it become a reality. Contact us right now by phone at 647-724-2001 or get your free personalized mortgage quote on our website, compare rates & terms, and start shopping for your home knowing how much money you're approved for.
Private Mortgage Lenders Ontario
Mortgage Approval Help
6477242001
68 Railside Road
Toronto
ON
M3A 1A3
View Larger Map